FOR IMMEDIATE RELEASE: January 24th, 2020
Contact: Sarah Roth-Gaudette, press@fightforthefuture.org
Organizations behind SaveDotOrg.Org and local activists deliver more than 30,000 signatures to the ICANN offices on the day of their final board meeting before decision to approve the sale
LOS ANGELES, CA — Today, NTEN, Fight for the Future, and EFF, as well as science fiction author and journalist, Cory Doctorow, and dozens of local activists, gathered to protest the corporate takeover of 10 million websites that use the .Org domain. Activists wearing shirts that read "some things are not for sale" chanted and carried a large banner with the words "Stop the .Org Sale". (See photos.)
"This is one of the last places on the Internet that is reserved for organizations that fight for the public good, and not commercial profits," said Sarah Roth-Gaudette, Executive Director of Fight for the Future, one of the organizations involved in today's protest. "ICANN Board members should stop the sale of the .Org domain to Ethos Capital and seek input from the civil society groups who rely on this powerful symbol of the public interest."
Following the protest, members of the group delivered more than 30,000 signatures demanding that the ICANN Board vote to stop the sale of the .Org top-level domain to a private equity firm.
In December, the Internet Society (ISOC), with no warning or public input, announced their plans to sell the control of the .ORG top-level domain registry (called the Public Interest Registry, or PIR) for an undisclosed amount to a for-profit private equity firm called Ethos Capital. Little is known about this firm, though it was founded six months ago, combines the money of several prominent Republican families in the United States, and includes former ICANN CEO Fadi Chehadi as an adviser. "Any number of terrible things could happen as a result of this sale," added Roth-Gaudette. "Organizations could be censored by the financial squeeze of increased costs, or by the fear of Ethos selling off information - potentially to authoritarian states that want to silence dissent or human rights efforts."
A coalition of more than 600 organizations, ranging from the Girl Scouts and the YMCA to Greenpeace, came together at savedotorg.org, and a groundswell of public support has resulted in a combined total of more than 30,000 petition signatures (Note: Fight for the Future ran a separate petition from savedotorg.org).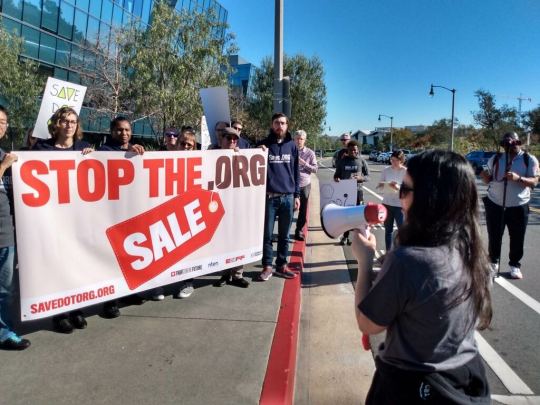 ###