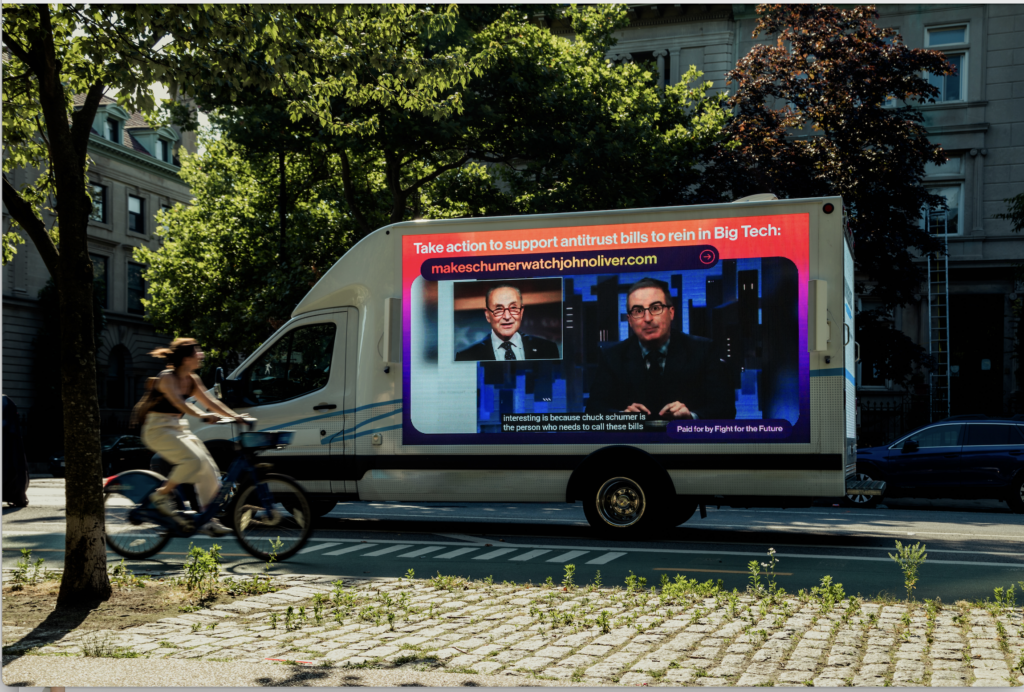 Digital rights group Fight for the Future is launching a new campaign in support of S. 2992 and S. 2710, antitrust bills to rein in Big Tech monopoly abuses that are poised to pass overwhelmingly as soon as Senate Majority Leader Chuck Schumer puts them on the floor.
The group has hired two mobile billboard trucks to drive around Chuck Schumer's residences in Brooklyn and Washington, DC playing John Oliver's Last Week Tonight segment on the antitrust bills on repeat. The billboard truck directs viewers to MakeSchumerWatchJohnOliver.com, a website where anyone can tweet a link to the John Oliver segment to Senator Schumer. The trucks will hit the road on Saturday and continue throughout the week.
High resolution photos of the billboard trucks, available for use by press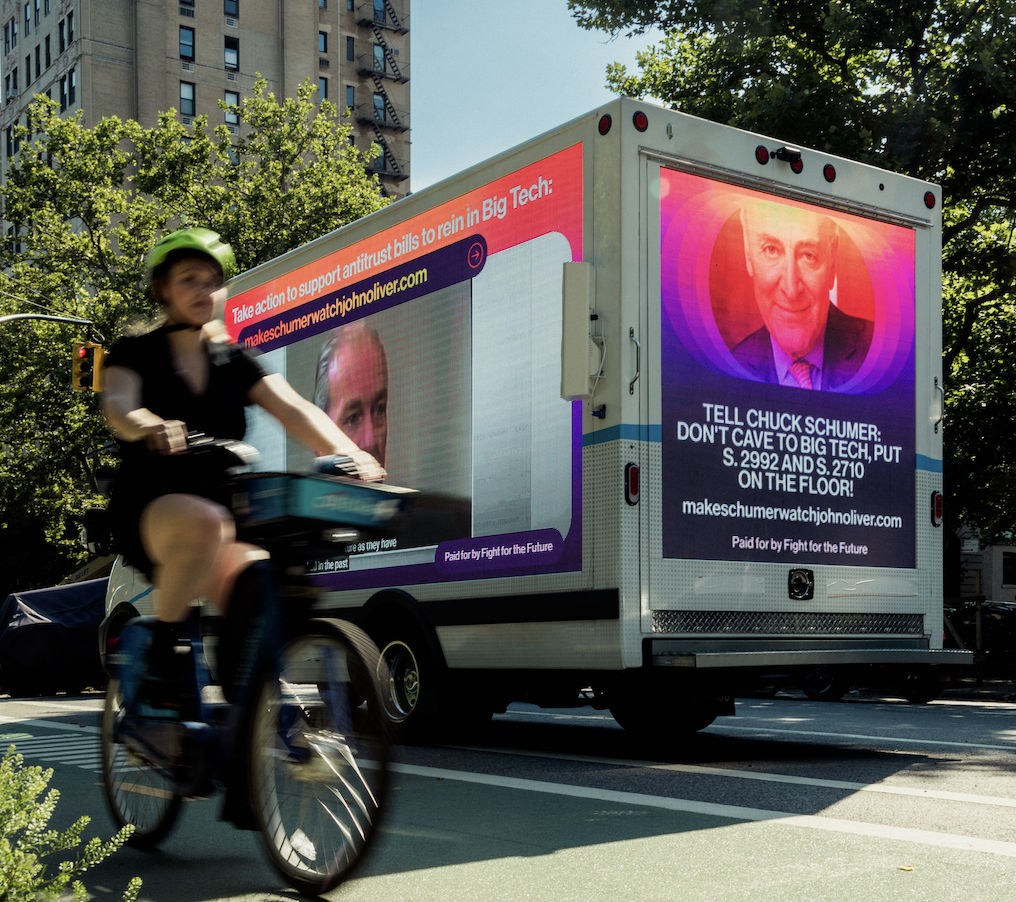 "We know as soon as Chuck Schumer watches the John Oliver segment on antitrust, he'll understand why these bills are so important and put them on the floor for a vote," said Evan Greer (she/her), director of Fight for the Future, "But clearly he hasn't watched it yet, because he's been dragging his feet and giving Big Tech's army of lobbyists more and more time to try to sink the bills. So we're putting it on the big screen right where he can't miss it."
In the segment, John Oliver calls out Senator Schumer by name, pointing out that his daughter is a registered Amazon lobbyist. Oliver notes that, while Leader Schumer has promised to bring the Big Tech antitrust bills to the floor, he hasn't yet.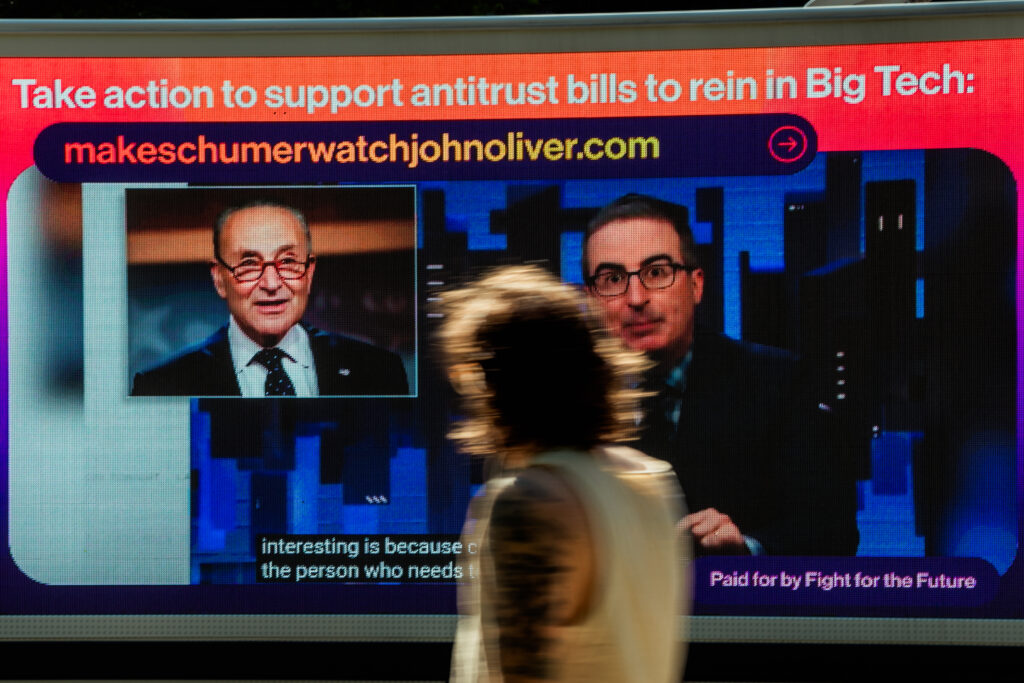 "The John Oliver segment does such a good job explaining the harms of Big Tech self-dealing and monopoly abuses, once Senator Schumer watches it he'll do the right thing, I'm sure of it," Greer adds, "And with strong bipartisan support, these bills will pass overwhelmingly as soon as Chuck moves them to the floor. "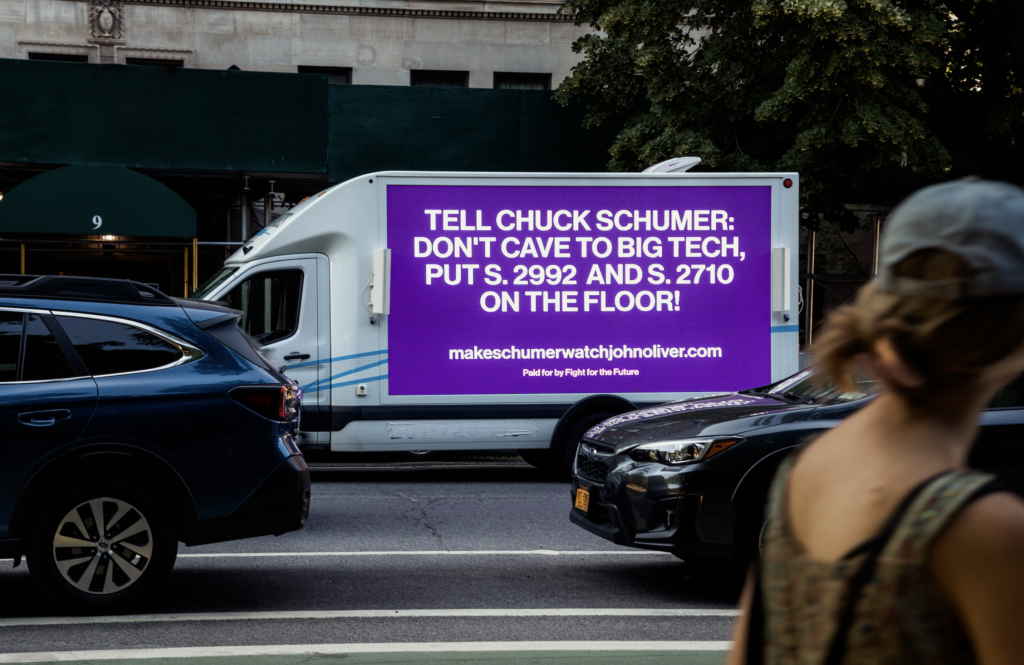 ###
Digital rights group Fight for the Future is best known for helping organize the largest online protests in human history against SOPA/PIPA and in support of net neutrality and online privacy. They've helped lead the AntitrustDay.org and AntitrustSummer.com campaigns, which have the support of more than 125 businesses and organizations, and have helped drive tens of thousands of emails, tweets, and calls to lawmakers in support of S. 2992 and S. 2710.