The Trevor Project has returned a $25,000 donation and cut ties with Gaggle, a controversial school surveillance vendor whose student monitoring software is notorious for outing trans and queer students to school administrators without their consent.
"The villain here is Gaggle, not the Trevor Project," said Evan Greer (she/her) director of Fight for the Future, "Surveillance software vendors are preying on our community by claiming that their invasive and discriminatory software helps queer kids when the evidence shows it hurts them. It's disgusting that Gaggle is throwing their money around trying to purchase goodwill within the LGBTQ+ community while their software is actively being used to out queer and trans kids without their consent, putting their lives in danger. This student monitoring software is especially dangerous in light of anti-trans legislation passing in states across the US. Schools should be doing everything in their power to protect the privacy and safety of LGBTQ+ students, not subject them to intrusive surveillance that could easily be weaponized by bigots and law enforcement agencies who are persecuting the families of trans kids. Mad props to the Trevor Project for acting so quickly. May this be the end of Gaggle's attempted pinkwashing campaign. Every school district using this harmful software should stop immediately, and the Biden administration's Department of Education should issue guidance warning schools against the use of software that blatantly violates students' civil rights."
The decision by one of the nation's leading support hotlines for LGBTQ+ youth comes after a report from The 74 Million showing that Gaggle had made a donation to the Trevor Project and launched a webpage (now deleted, screenshot below) claiming that their surveillance software could be used to protect LGBTQ+ students, despite overwhelming evidence to the contrary. Fight for the Future director Evan Greer, who is also a transgender activist and musician, (she/her) tweeted the 74 Million's report, quickly garnering thousands of retweets. The Trevor Project announced they were returning the donation and cutting ties with Gaggle four hours later.
A report from the Center for Democracy and Technology found that Gaggle's student monitoring software routinely outs LGBTQ+ students, putting them in danger. Subsequent reporting from Wired revealed shocking details about the scale of Gaggle's invasive surveillance. In one harrowing instance, high school students had alerts about nude photos nonconsensually shared with school administrators after plugging their personal cell phones into a school computer to charge them.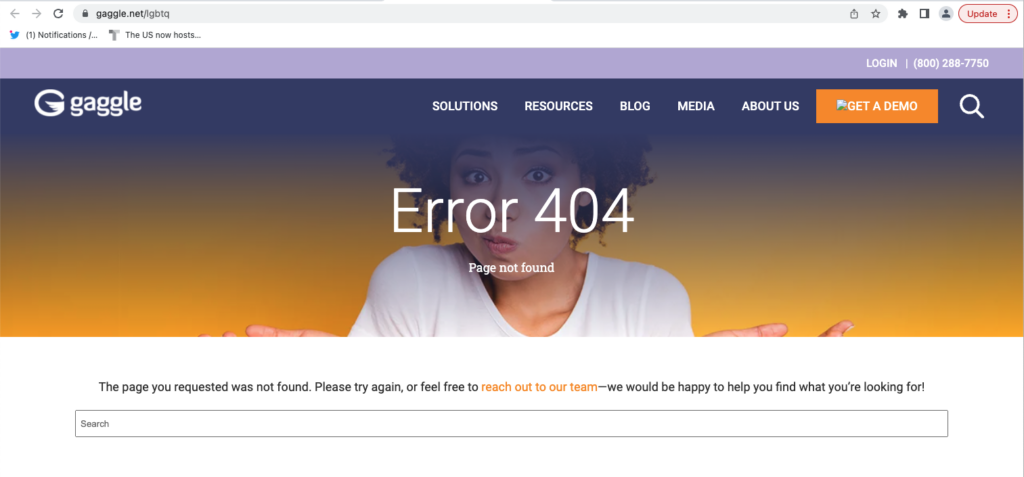 Fight for the Future has launched a campaign called "End Child Surveillance," calling for the Department of Education to issue guidance to K-12 school against the use of harmful surveillance software like Gaggle. Evan Greer is hoping to help the Trevor Project make up the $25,000 donation that they returned by urging others to donate to them online showing appreciation for the principled decision to cut ties with Gaggle.