FOR IMMEDIATE RELEASE:
April 11, 2023
Sparked by a Saturday rally at the nonprofit Internet Archive, the City of San Francisco is fast-tracking a resolution applauding the digital library's essential work for access, research, and preservation—and decrying the deeply problematic digital licensing regime major publishers have forced libraries into.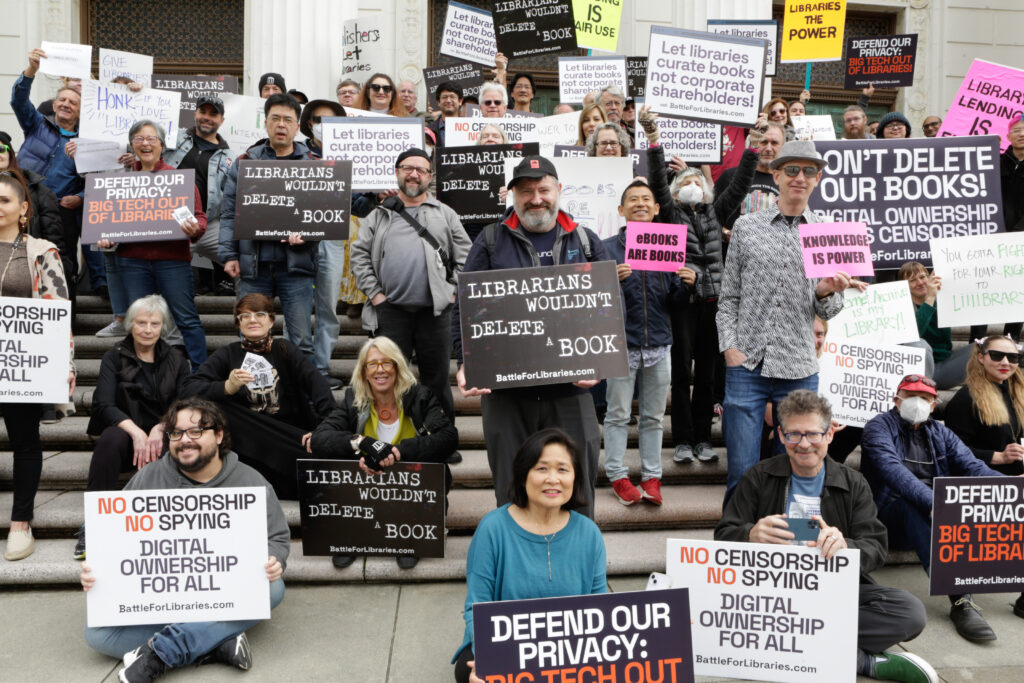 Today, Supervisor Connie Chan is introducing a resolution in support of San Francisco's very own "Library of Alexandria"—the Internet Archive.
The nonprofit digital library is experiencing a groundswell of support after a lower court ruling that might force it to delete 4 million books it has scanned into its collection. On Saturday, April 8th, over 50 San Franciscans rallied and marched in San Francisco's Richmond District, thanking the Internet Archive for both its decision to appeal to a higher court, and its continued advocacy for the rights of all libraries to own and preserve digital books. The protesters joined over 25,000 who have signed an online petition at BattleForLibraries.com.
View & download photos: https://drive.google.com/drive/folders/1cnC0R94nWIUp9hFljHpfaUKO24Qr8ngy?usp=sharing
"It is imperative we work to preserve digital access to the Internet Archive's catalog," said District 1 Supervisor Connie Chan (she/her), who represents the district where the Internet Archive is located. "The right of publishing companies' profits should not supersede the right to public information. I urge my colleagues at the Board of Supervisors to support my resolution in support of the digital rights of libraries."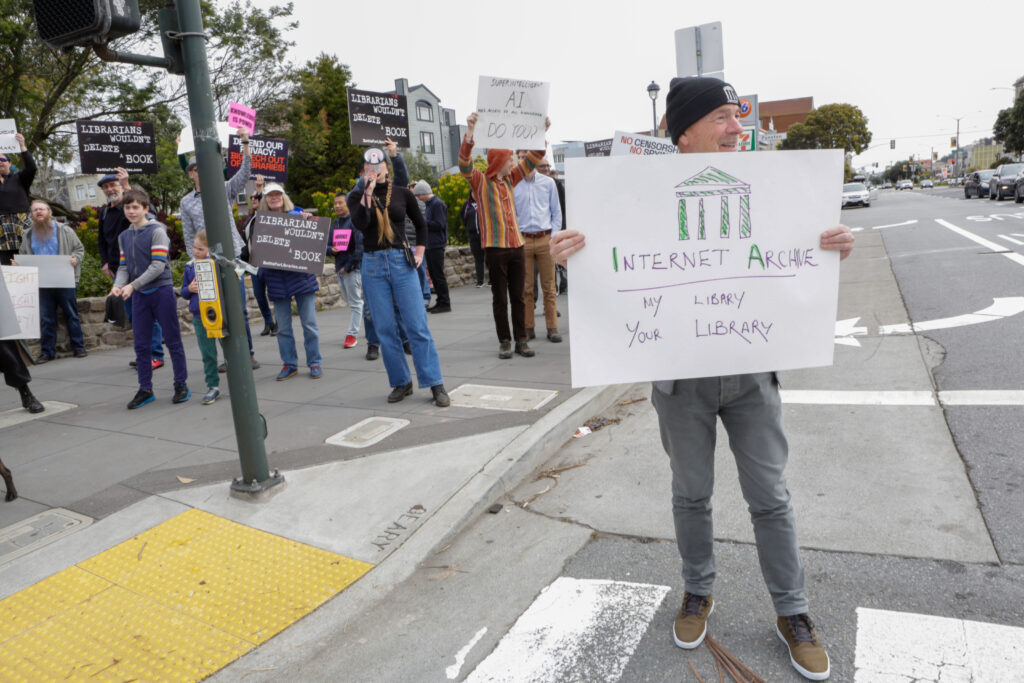 At the rally, speakers included Executive Director of the Electronic Frontier Foundation Cindy Cohn; Internet Archive Founder and Digital Librarian Brewster Kahle; Lili Siri Spira, Junior Fellow at the Internet Law and Policy Foundry; and Lia Holland, Campaigns & Communications Director at digital rights nonprofit and rally organizer Fight for the Future. Audio of their speaking, as well as select video clips, are available upon request by emailing press@fightforthefuture.org.
"This isn't just about libraries. The arguments being made here are undermining our right to own works, to not have them summarily edited by a third party. The right to sell books, the right to do what we want with our books. This is about ownership in the digital age." Cindy Cohn (she/her), Executive Director at the Electronic Frontier Foundation, said at the rally. "The move from ownership to licensing to centralized control means that there's potential for censorship and also for spying. Privacy of reading is critical. Kids, adults, everyone deserves to read things without somebody looking over their shoulder, marking what they're doing, tracking what they're doing, and potentially making that information available to third parties. This is about our right to investigate our world, to explore new ideas. So, privacy is on the line."
"Gender, sexuality, different ideas—[my friends] found books that weren't on school bookshelves. They didn't have to buy them or hide a purchase from a parent. And in those books they found themselves. And then they helped me find me," said Lili Siri Spira (she/her), Junior Fellow at the Internet Law and Policy Foundry. "But now it's a digital Fahrenheit 451: read it while you can kids, it's lit!"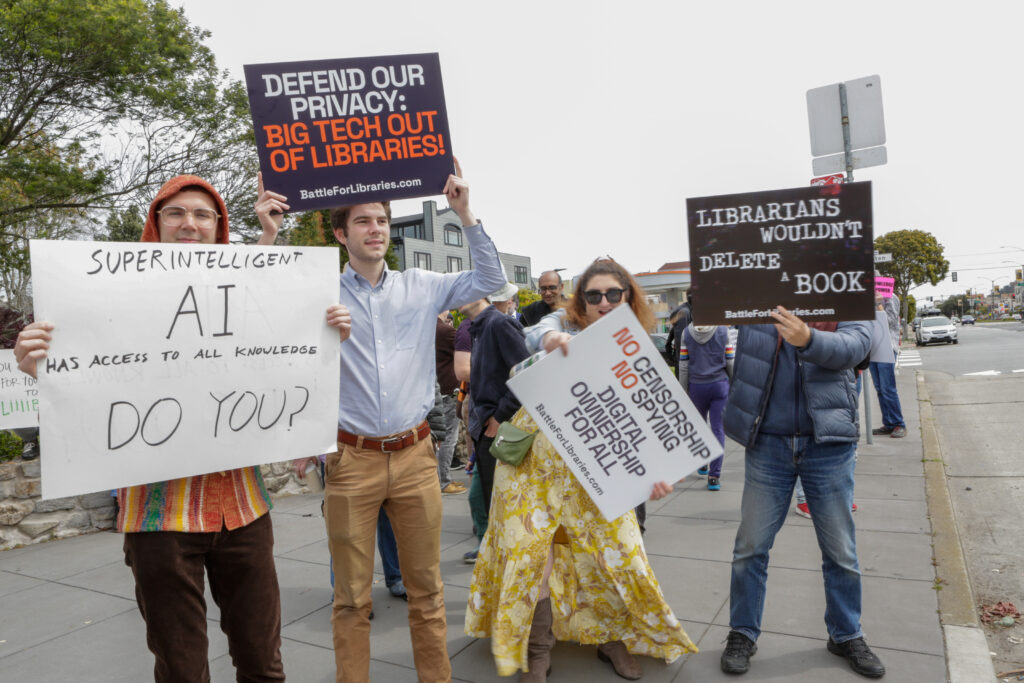 Protesters' chants included a call to preserve all authors, not just bestsellers, books that hadn't been censored, or those that major publishers deigned to make a print copy of. As a part of the rally, the Authors for Libraries letter was read—and the crowd cheered at the names of authors like Neil Gaiman, Karen Joy Fowler, Hanif Abdurraqib, Naomi Klein, Chuck Wendig, and Cory Doctorow that stood with them in spirit.
"It's high time for cities and states, as well as our leaders in DC, to take a stand for the future of libraries," said Lia Holland (they/she), Campaigns and Communications Director at Fight for the Future, which organized the rally. "Amid book bans and intimidation, the last thing library workers need is this existential struggle against the greed of big publishing corporations when it comes to digital books. It shouldn't matter whether a book is in print or a digital file, libraries should be able to own and preserve our stories and the diverse voices of authors big and small for generations to come. People should be able to read them without fear of being surveilled or punished for seeking knowledge. That's what's at stake, and why we called on legislators to step up this weekend at the Internet Archive. We applaud Supervisor Chan for introducing this resolution."