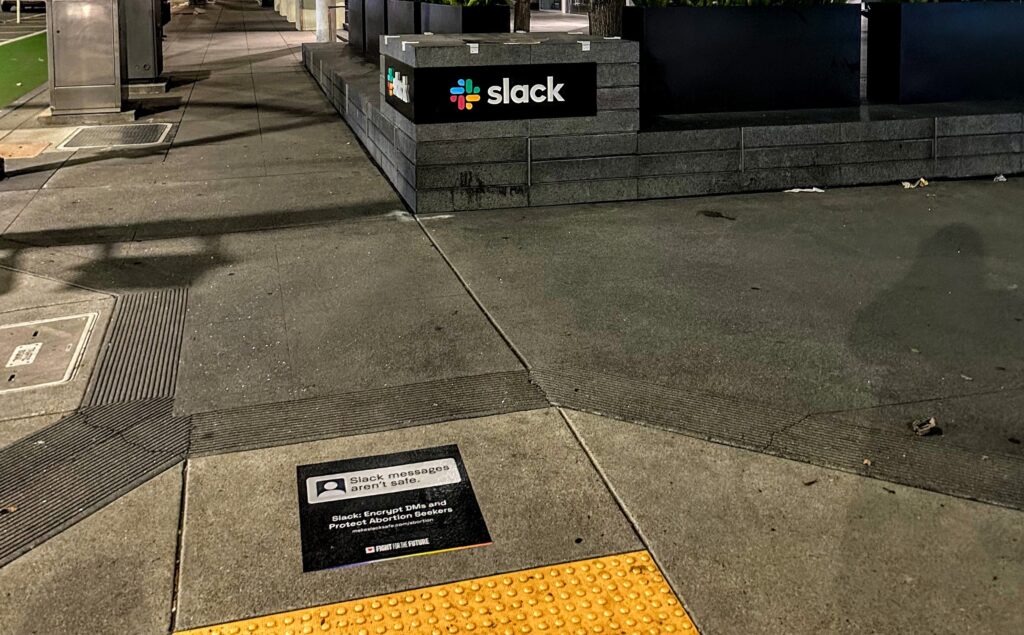 Digital rights group Fight for the Future has launched a new campaign calling on Slack to offer default end-to-end encryption to all users free and paid, in order to make Slack safer to use and to protect human rights. 
The new campaign targeting Slack is part of the broader MakeDMsSafe.com effort, and launched this week with a new MakeSlackSafe.com open letter and prominent sidewalk decals placed around Slack (and its parent company Salesforce) headquarters in San Francisco and Denver. The decals specifically point out the ways that Slack's lack of end-to-end encryption puts people who are seeking, providing, and facilitating abortions at risk in a post-Roe environment.
Slack says that it only provides user data to law enforcement when it is legally required to do so. In states where abortion is being criminalized, law enforcement can and will use subpoenas to force Slack to hand over the internal messages of abortion funds, abortion providers, and reproductive rights organizations, as well as private individuals who use Slack to message friends, family and coworkers.
See more photos of the sidewalk decals here.

See a map of where the sidewalk details are placed in SF and in Denver.
"I lie awake at night worrying about abortion funds and LGBTQ youth organizations that are using Slack to organize and could have all of their internal communications handed over to law enforcement tomorrow because Slack refuses to offer end-to-end encryption," said Evan Greer (she/her), Director of Fight for the Future. "Because Slack messages are not end-to-end encrypted, the company has access to them, and will provide them to law enforcement if they receive a valid request, regardless of how draconian the law being enforced is. Slack allows its highest paying corporate customers to control their own encryption keys, but that still leaves employees vulnerable to snooping by their boss, and does nothing to protect activist groups, nonprofits, and individuals who can't afford that premium feature. The only way for Slack to truly protect its users' safety and rights is to follow the lead of other major messaging platforms and offer end-to-end encryption as a default."
Fight for the Future plans to continue escalating the campaign, first by encouraging individuals and organizations who use Slack to sign on to the open letter at MakeSlackSafe.com. The group is prepared to organize in-person protests and escalate further if necessary, though we hope that Slack will do the right thing and announce plans to offer end-to-end encryption.
###