FOR IMMEDIATE RELEASE:
July 20, 2023
Groups want Congress to pass privacy legislation rather than controversial censorship bills like KOSA, EARN IT, STOP CSAM, COOPER DAVIS, and the RESTRICT Act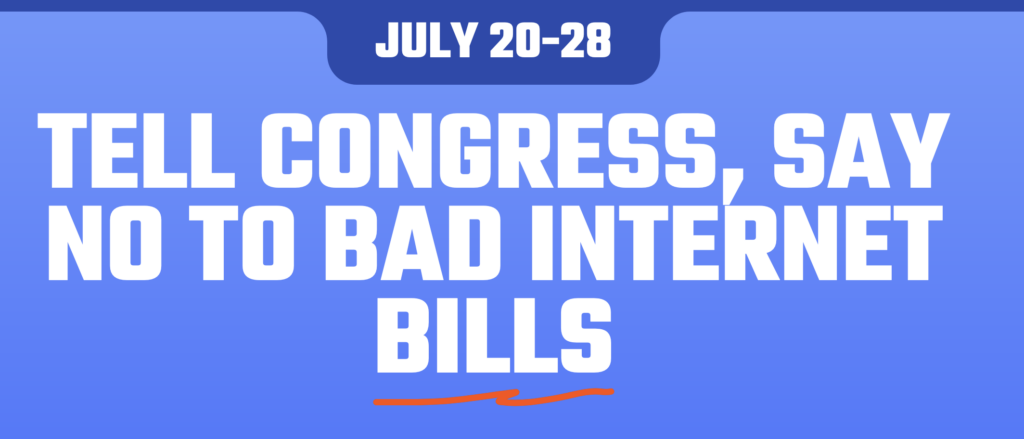 A broad coalition of human rights, civil liberties, LGBTQ+, abortion rights, and racial justice organizations are planning a week of action to oppose a slew of "Bad Internet Bills" that would fail to address the harms of Big Tech giants while undermining online rights and safety for all.
The week of action starts Thursday, July 20th and runs through the end of the Congressional session on Friday, July 28th. It's being organized by the ACLU, Defending Rights and Dissent,, Electronic Frontier Foundation, Fight for the Future, and the Woodhull Freedom Foundation.
See the announcement about the week of action here: BadInternetBills.com
Participants will drive emails and phone calls to legislators and urge influencers and online communities to speak out against misguided legislation, including:
The Kids Online Safety Act (KOSA) – gives state attorneys general the power to censor speech related to LGBTQ issues and abortion rights

The EARN IT Act – threatens the availability of end-to-end encryption, and opens the doors to widespread censorship like SESTA/FOSTA did

The STOP CSAM Act – fails to address the scourge of online child exploitation, while threatening encryption, much like the EARN IT Act would

The Cooper Davis Act – punishes communications providers that encrypt your communications and co opts those companies for increased government surveillance of marginalized communities in a revival of failed "war on drugs" policies

The RESTRICT Act – gives the government extraordinary power to censor apps, without doing anything to address legitimate concerns about TikTok—along with a huge range of other apps, data brokers, and governments— harvesting your sensitive data
Individual Internet users can use BadInternetBills.com to easily send an email and make a phone call to their legislators opposing each of these bills. The page urges lawmakers to pass a strong data privacy law to meaningfully address the harms of Big Tech, rather than advancing these dangerous and controversial proposals.
###